Allow us to introduce ourselves
​
Owner
Drum Instructor
​
Kevin has been playing drums since age 11 and has over 10 years teaching experience. All though heavily rock influenced by bands such as Nirvana and Foo Fighters, Kevin has a wide style range of many other genres of music. Credentials include playing many venues to large audiences in bands such as Turning Point, Automatic Static(2009-2010), Nam Classic and played on the album Murder of California which had songs featured on MTV's The Real World Road Rules Challenge and Jersey Shore. Also, Kevin has had the privilege of opening up for bands such as Sammy Hagar, Filter, Far and Unwritten Law. Kevin is currently endorsed by Vic Firth Drumsticks, Soultone Cymbals and Reunion Blues Cases. Check out www.drummer101.com for online drum lessons with Kevin Prince.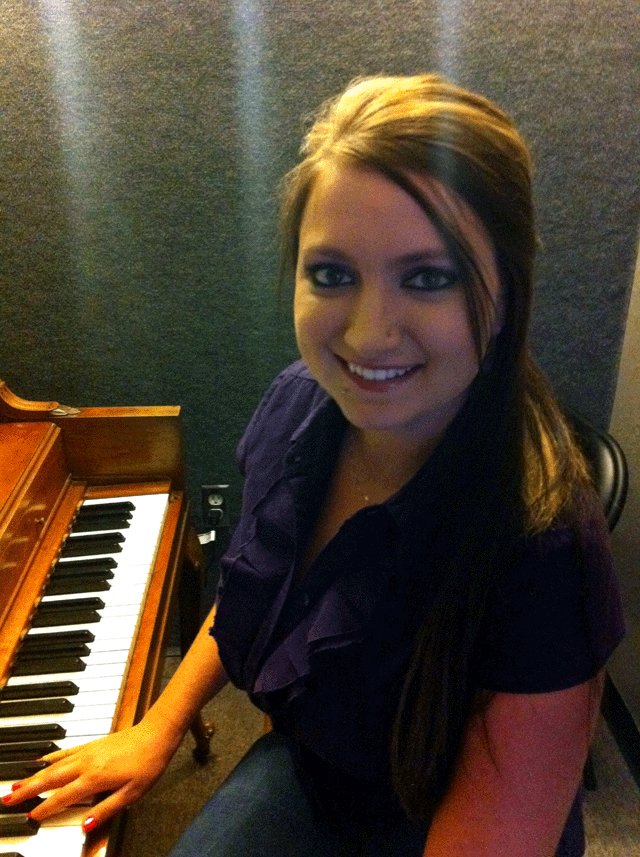 Valerie did her first vocal performance at just 7 years old. She started playing the piano at age 11 and has studied piano and voice for most of her life. She has performed in orchestra's, bands, and has played in numerous restaurants and clubs. She also does solo projects such as weddings, funerals, and accompaniments. She has been teaching for almost 11 years and has a passion for sharing the love of music with both kids and adults alike. In her piano instruction she specialized in classical technique, improvisation, theory and much more. Vocally she teaches broadway, classical, and pop techniques. She encourages performance from her students and hosts two concerts a year in which they are given the opportunity to perform.
​Jayson started playing piano at the age of six. After about ten years of this he started to pursue other instruments. At the age of 14 he began playing guitar. After playing in a few local bands he became interested in bass and drums. He now plays all 4 instruments fluently and in different groups in the Sacramento area. He loves to write/record and perform music. In 2011 he was contacted by Unboxed Records and was flown to Indiana to record his first album. Jayson's biggest passion in life is music and loves sharing his passion with others.
Guitar/Bass/Piano Instructor
By age 4, Briana Lee started taking piano lessons. She found the drive and inspiration to pursue music by being in a musical family. She has sung back up for jazz singer Tom Braxton and also Andre Delano, one of the worship leaders at Celebration Church in Auburn; a church she is very involved in. This summer she will be touring in France with 18-time platinum record seller, Johnny Halliday. She enjoys teaching classical piano and contemporary vocals including rock, jazz, R&B, and gospel. She attended The Los Angeles Music Academy in Pasadena with a focus in vocal performance and is currently a music student at William Jessup.
Steven has been playing drums since he was 12 years old. He has been teaching drums since he was 21 years old. Steven has played and recorded with a few different bands. He comes from a rock/pop and blues background. Some of his influences are Led Zeppelin, Incubus, Shinedown, and many more.
Started playing drums at the age of 9 years old, just banging around aimlessly then decided i want to take lessons. Took lessons from kevin Prince at age 13 and did so for 3 years. Took a different route with my music and joined a metal band. From there many doors opened. Learned to play different variations of metal, built up speed, proper technique and solidity. At 17 i decided to take a different route in drumming and began taking in samba, jazz, funk, more variations of rock and pop/club music.
Ben Michel began playing drums at just 10 years old. In high school he played in marching, symphonic, orchestra, and Jazz band. He began teaching percussion at 16 and majored in Jazz Performance at Sacramento State University. He was a member of the Sierra College Jazz Ensemble, Jazz Choir, and Orchestra. He has performed at the Reno Jazz Festival and holds an endorsement with Shine Custom Drums &Percussion.He is still an active participant in the Sacramento area music scene, performing with local bands, as well as volunteering his time playing local Churches during Sunday services. Playing drums is one of Ben's greatest passions and sharing that with others is something that just comes naturally.
​Justin Barnes is no stranger to the drumming world. He has been active in the drumming community for the last 15 years. He began his professional drumming career with Simplistic, signed under Linkin Park's subsidiary label Machine Shop Recordings, distributed by Warner Bros. Music Group. Barnes had a desire to not only play drums and teach drums; he also wanted to build them. He became one of the Master Drum Builders for Shine Custom Drums for 5 years, and later went on to become an Artist Relations Representative for the company. In 2007, Barnes got the call to join another signed Sacramento Pop/Rock group called Self Against City. They were signed with Drive-Thru records and had two internationally released albums. Barnes is ready to jump back into teaching private students and is accepting students in the Sacramento area. His teaching style is relaxed and focuses on the goals of the student. Barnes reinforces lessons with actual drum notation and has a variety of instructional drum method books ranging from Hard Rock to Latin and Jazz. Barnes is a proud endorser of Pro-Mark Drumsticks, Evans Drums Heads, Shine Custom Drums, and SoulTone cymbals.
Chloe True has been singing and playing piano since she was 5. She enjoys playing classical piano and singing everything from contemporary to classical to broadway. She currently is a vocal performance major at William Jessup University. She has a lot of performance experience and has traveled with her school to perform, Sung with Lincoln Brewster, and is an active member in the Bayside worship band.